About ITSGood
ITSGood is a service developing project for the Intelligent Transportation Service (ITS) by HwaCom, a public listed Company in Taiwan OTC. The major goals of this project are to integrate various transportation data generated by government & private organizations, and provide a variety of ITS value-added services in the cloud, and uphold the principle of "user-centric design" to bring timely, accessible, accurate and complete transportation information services to users.
In 2010 to 2011, ITSGood launched "RoadCam", "好路子" two smart phone APP in Android and iOS phone. Total accumulated more than 300,000 valid installation users. Also set up ITSGood Facebook community, providing customer service and interesting messages.
In 2012, ITSGood is combining "GPS-Based Vehicle Probe" & "Cloud Computing" technology to expand the coverage of the real-time traffic, enhance information immediacy and accuracy, and began to prepare to provide historic traffic analysis and prediction services. Services currently offered are as follows.
| | |
| --- | --- |
| Service name | Description |
| LuLu | Intelligent driving assistant |
| RoadCam | Real-time traffic cameras viewer |
| 好路子 | Real-time traffic information and route planning tool |
| Dr. Road | Traffic forecast and analysis tool |
| ITSGood Facebook | Traffic information sharing and customer service |
Android_APP download​
Iphone_APP download​

The mobile applications of traffic control device maintenance operation management
"The EMM system provides Traffic Controllers and Maintainers with monitoring, maintaining, and managing highway equipments. It's functionalities include: GPS Positioning and Device Querying on Map, QR Code Scanning, Failure Reporting, Device History Querying, Malfunction Querying, Malfunction Reporting, Routine Maintenance Reporting.
Until now, users have been reducing around 123,600 pieces of paper after adapting automatic operation in one year. The average of maintenance time has been reducing 3.5 hours and reliability of equipment has been increasing as 99.33%."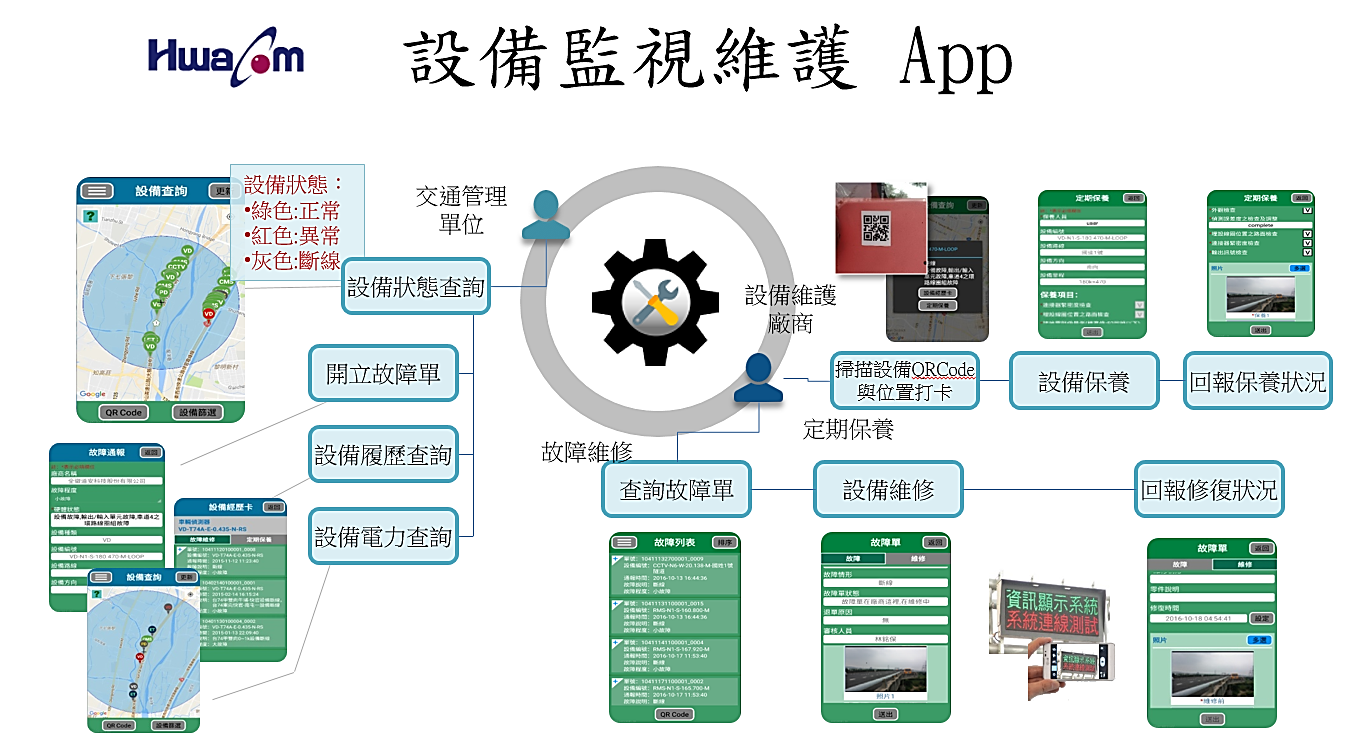 The traffic control software(TCS)
The traffic control software(TCS) is mainly designed to assist traffic personnel in control center to handle normal business followed by a systematic manner, such as: collection and analysis of traffic volume, operations on information display board to display road information, implementation of ramp control operation to control national highway traffic, and some dredge suggestions when it occurs traffic jams in continuous holidays, etc. Moreover, the common operations like road construction notification and accident dispatch, which are required immediate report and processing, now can be completed through mobile phones and tablets, effectively reducing the time of accident notification. Therefore, with the less time the notification we get, we can instantly know the situation on the spot, take control of overall situations, and achieve the goal of intelligent transportation system.